How Hiring Manager Can Use Social Media For Recruitment Post COVID-19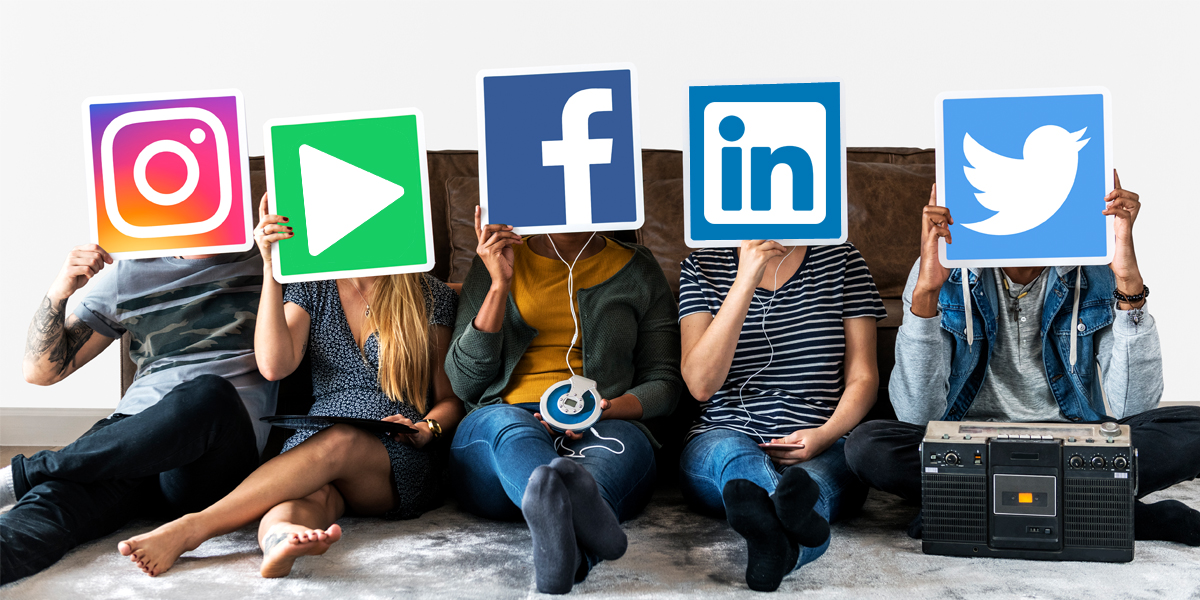 COVID-19 has forced all of us to stay inside. And this means that we are connecting online. Plenty of us is working remotely because that is the only choice we have. We are spending more time on apps, and the use of social media is on the rise post-COVID-19. And this is not the end of the recruitment. 
Many candidates who are looking for their next dream job are relying on social media. And it is a perfect time for recruiters to make use of social media channels and interact with the audience. So, if still, social media is not a part of your recruitment strategy, it is high time to include it. Or you will stay behind the competition and hiring candidates will be difficult post-COVID-19. Don't get confused using social media for recruitment is also referred to as digital recruiting.
In this article, we will discuss how to use social media for recruitment post-COVID-19. 
1. Have Your Social Media Recruitment Strategy Ready 

It is the first thing you need to focus upon while recruiting. Creating a social media recruitment strategy helps you to implement your plans smoothly without doing random things. It brings a systematic approach, don't focus on getting it perfect the first time.
Keep in mind that you need to have your original social media recruitment strategy according to your needs. You cannot copy other's plans what's working for them might not work for you. 
Here are a few pointers to help you with building your social media recruitment strategy: 
Target The Right Candidates: Finding an ideal candidate post-COVID-19 can be a task, if you have a killer job advertisement but not targeting the right market. It gets simple when you create a candidate persona. 
Create A Content Calendar: Take leverage of the teams you have at your disposal. Recruiting candidates takes a lot of time, and it is a team game. Ready your content calendar and assign it to different team members. 
2. Focus On Employer Branding
Social media helps to strengthen your employer brand. Your employer brand is nothing with the right marketing. You need to promote/market exact attributes that make your company a perfect place to work. Around 59% of candidates use social media to research companies they are interested in joining. 
Tell your story, promote your work culture, and you can use photos, content, blog posts, employee testimonials, etc. 
Social media helps to attract more candidates to open jobs, according to LinkedIn, 49% of professionals follow companies on social media with staying in the loop for any open positions. 
So, if you are not using social media to spread the word about your company and the open positions, you are missing on plenty of candidates. An active presence on social media increases awareness and keeps your company stays in the mind of the candidate. 
As a company, you need to create and share recruiting content, and you want to attract serious candidates for your company. The recruiting content is social media content created to inform potential employees about the hiring process. So, there is no shortage of compelling reasons for actively promoting your employer brand on social media. 
3. Leverage Instagram Stories For Recruitment 
Instagram is a dark horse among many recruitment channels. Every recruiter is focusing on LinkedIn, Facebook for their next dream candidate, so in every other recruiter. The competition is high if you are looking to source candidates from these two portals. Sooner you can gain an advantage over your rivals. 
Pro Tip: Here is another way to search for potential candidates on Instagram. For example, you want to search for people or companies with keyword recruitment. Just go to Google and enter the query like this: 

The result will show the query of users who have the above keywords included in their bios: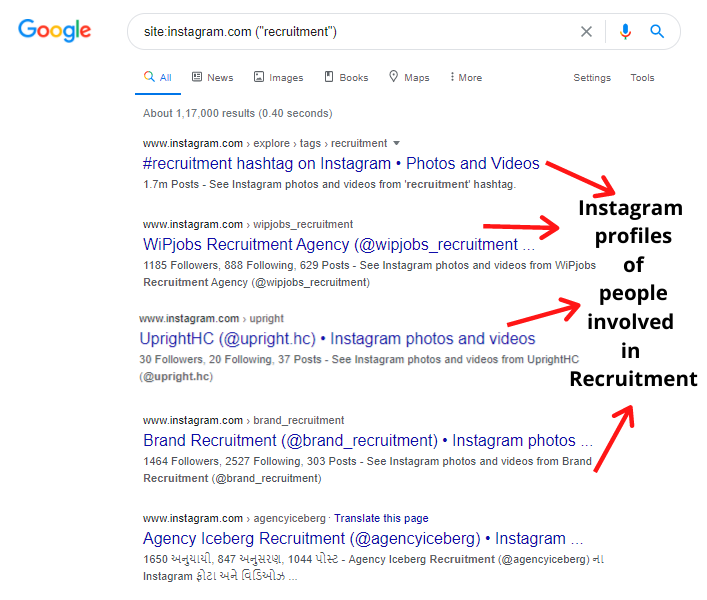 2020 is the year of Instagram Stories, a photo or a video stays live up to 24 hours and then disappears. You can up your recruiting game with these ways: 
Feature your employees: It can simple as posting photos of determined employees & having them share information about their job role or sharing a video-specific. It does not end here. You can finish your stories with a link to your career pages. You need to be creative enough with your story's content. 
Increase interaction: Instagram Stories is more than a one-way communication via storytelling. There are three ways to do it: 
Interact Via Questions: One way to engage with candidates is by uploading the Q&A sticker with the video. The Q&A is anonymous to the public but not you. It helps to start conversations with potential candidates. It makes you stay ahead of the competition by making the communication easy. 
Use Poll: It is another popular feature of the Instagram Stories. You can relevant question or statement for the story and let your viewers answer it. It is an informal feature to gather the data. It helps in recruitment like the poll question could be, would you mind working abroad? And they can tap on yes or no. 
Live Video Is Your Friend: In recruitment strategy, it could include an employee that gives a tour of the workplace, it can work as a Q&A session, where candidates can ask questions in the comments. 
4. Use Video Interviews And Social Media Together
Video interviews are the perfect way to recruit candidates during the COVID-19 situation. Video interviews provide interactive & efficient tho hire candidates. You can join them both & get help in the interview. Here is the way to do it: 
Create A Public Interview
The public video interview is the type whereby the choice of receiving & screening job applications, the video interview becomes the first step of the recruiting process. You need to record an introduction video as the first video for the interview. It works in the same role as a written job description does. When a candidate comes on the video interview page, they will watch this video and decide to apply for the job. 
Publish The Interview On Social Media
After the video gets created, the next part is to share on the desired social media platform that is ideal for your business. I will suggest you share this on all the big four social media websites (LinkedIn, Facebook, Twitter and Instagram). The important thing is to write an attractive social media post that helps to grab the attention of the candidates & some information regarding the position. Keep the rest of the information in the video.
When you are ready with the video and the social media post, publish it. Interested candidates can apply by clicking on the link given. 
5. Build A Talent Pool For Long Term
To build a talent pool you need to leverage social media platforms. This process helps in the long term hiring of candidates and build a base of candidates post covid-19 era. This reduces the cost of hiring and speeds up the recruitment process. For this to work, you need to ask your team to promote the company on social media. There should be regular interaction with people via the company's social media accounts. 
The internal hiring team needs to understand that using social media only for recruitment won't do any good. Post content that is interactive enough to attract passive candidates, it should contain useful information related to career. 
Conclusion
Using social media not only to check recent updates but also for recruitment is the next big strategy. If you won't you will lag behind the competition. So, here you can see how you can use social media for your recruitment strategy. If done, you will reach a relevant audience in no time & build up your reputation. 
We at Upright HC have an experienced team that handles the social media channels for your recruitment needs post-COVID-19. We build strategies according to your recruitment needs and for a specific social media channel. If you are a company that is looking to hire candidates via social media, contact us today.
Related Articles